More than 5000 beauty salons buy our products every month
ITALIAN FORMULA CREAM-GEL

EXCELLENT COVERAGE GREY HAIR
30-Day Money-Back Guaranteed
More than 5000 beauty salons buy our products every month
Worldwide shipping. All goods are in stock.
We guarantee high quality of goods. 30 days return policy.
Mix = 1+1.5.
Less than $5 per 3.4 oz - 100ml for salon!
Calculation for salon price:
One G&C Professional Color 3.4 oz - 100ml cost $6.75
+
One developer G&C 33.8 oz - 1000 ml cost $6.5.
You need only 150ml Developer it cost $6.5/6.6=$1
Costs for 3.4 oz - 100ml final colors will be $6.75/2.5+$1*2=$4.7
Cost complete color= $3.7
For comparison, another popular brand of paints

One Professional Color 1.7 oz - 50ml cost $7.5
+
One developer 1.7oz - 50ml cost $6.5.
Costs for 3.4 oz - 100ml final colors will be $7.5+$6.5=$14
TECHNICAL EXCELLENCE IN COLOR
Introducing Our Newest Color Line for Professionals!
The G&C Hair Color is an exclusive line of professional permanent oxidation coloring products. The revolutionary M.A.B. system lightens, deposits pigments, and reflects light in a single treatment, giving hair intense and bright color that won't fade over time. The G&C Hair Color formula combines a dual base of both gel and cream, allowing for flawless coverage while protecting the hair from drying out or being weighed down. The formula contains low levels of ammonia and many natural ingredients such as beeswax, coconut oil and marula oil. This unique formula penetrates deep into the hair shaft, but respects the natural structure and integrity of each strand of hair, creating spectacular colors while promoting hair health.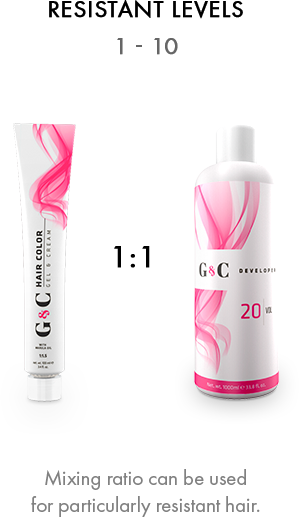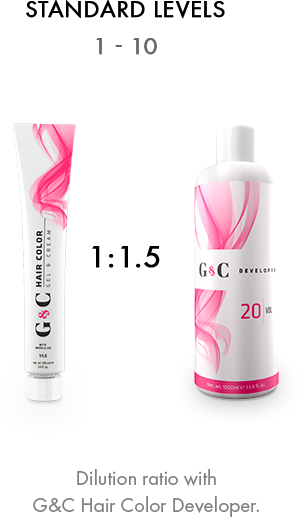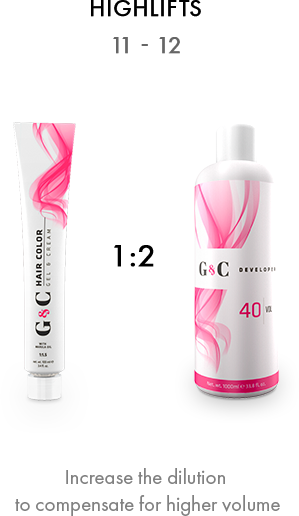 ITALIAN FORMULA CREAM-GEL

EXCELLENT COVERAGE GREY HAIR
30-Day Money-Back Guaranteed